The Foundation of a building is an essential part of the construction. Whether you are constructing a skyscraper, family homes, or super-structures, it is important to choose the right type of foundation for construction. The Foundation of a building serves two main purposes: it bears the weight of the structure and keeps soil moisture away.
Why do buildings need a foundation?
Buildings need concrete foundations because
It spreads the weight of the structure to a larger area
Avoids uneven settlement
Prevent lateral loads
Increases stability in the structure
What are the major types of commercial concrete foundations?
There are two major types of commercial concrete foundations, which are divided into subcategories. This article will focus on the main types and the subcategories of commercial concrete foundations along with their uses.
Shallow foundation
Individual footing
Strip foundation
Combined footing
Raft foundation
Deep Foundation
Shallow foundation
Following are the main types of shallow foundations.
Individual Footing
The most common type of foundation used for constructing a single column. It has a square or rectangular shape. The columns bear the load of the structure. Rectangular columns are used when the column experiences weight due to horizontal forces.
Combined Footing
A combination of individual footing is used when two individual columns overlap each other. The shape of this type of foundation is also rectangular and is used when columns have to bear the load of the structure.
Spread footings
Spread footings have wider bases that spread the weight of the building to an expansive area and strengthen the structure. Spread footings are used for individual walls, columns and must not be used on soils where the groundwater may weaken the foundation.
Raft Foundations
This type of foundation spreads across the entire building structure, supporting heavy loads from walls and columns. It is used in places where the structural loads from walls or columns are high. It is economical and suitable for areas where soil bearing is less. Raft footing must not be used in areas where groundwater overlaps the soils' bearing surface.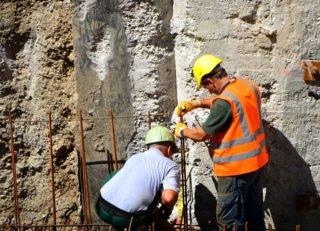 Deep foundation
Following are the major types of deep foundations.
Pile Foundations
Pile foundation transfers the heavy load of the structure to hard soil that is deep below the ground level. It is used when shallow footings such as raft footings or spread footings cannot be used. Pile foundation is used in places where soil conditions are not suitable to bear heavy loads. It prevents uplift of the structure caused by lateral loads, including wind forces and earthquakes.
Caisson Foundation
Another type of deep foundation is the caisson foundation. It serves a similar purpose to pile foundation. This type of foundation is used when you dig deeper into submerged water to find solid bedrock. Caisson foundation provides water resistance, structural integrity, maintenance capabilities, and pumping.
You will find all the aforementioned types of concrete foundations with commercial contractor Pittsburgh. It is important to be sure which type of concrete foundation you should use to construct your buildings before you start the construction process.
Ready to learn more about commercial concrete foundations for industrial buildings?  TBI Contracting has helped many companies in the Pittsburgh area, delivering quality projects – on time and on a budget! Give us a call to learn more at (412) 896-1455.